---
Actual litter
All puppies from litter "E" Carský klenot have new homes already.
Pictures of puppies in photo album HERE.
Videos of puppies HERE.
The most actual infos on my FB profile HERE.
We already have prepare equipment for puppies. Each puppy gets a gift package from Brit with 1 kg of granules, 1 kg beef meat from Vetamix, collar, toy - rat from IKEA, blanket with smell of mother and siblings and deworming tablet and for beginners there are also a few beauceron handbook.
Puppies are available from 16th February 2018.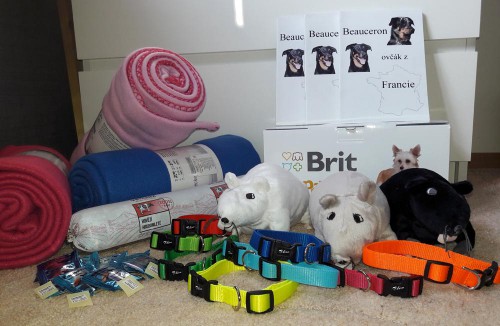 25. 12. 2017 were born 8 beauceron puppies. 5 males - dark blue, light blue, dark green, light green and yellow ribbon and 3 females - orange, red and pink ribbon. We accept reservations now. For sale in half of February 2018.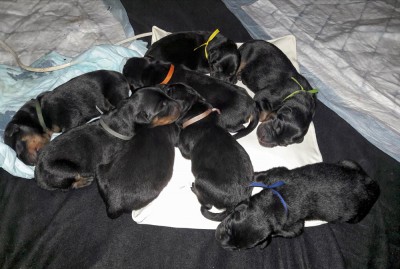 Parents of beauceron litter "E" Carský klenot:
Father: Diego z Ajysyt
TAN test: 8/9/9 - excellent
health: HD A/A
exams: BH, SPr1
exhibitions: CAJC, res. CAC, CAC, Winner of special show, Regional winner
Mother: Cadence Carský klenot
TAN test: 9/10/10 - excellent
health: HD A/A, ED 0/0, OCD 0, Spondy 0
exams: BH, ZM, ZZO, ZZO1, ZVOP
exhibitions: CZ Juniorchampion, SK Juniorchampion, CZ Champion, SK Champion, PL Champion, CMKU Champion, National winner, BOB, BOS, BOJ,CAJC, res. CAC, CAC, CWC, res. CACIB, CACIB...